At the end of the 2022 season, at Brands Hatch, I caught a shot of Lee Jackson coming out of Druids hairpin with the back end stepping out slightly leaving a dark tyre mark behind. I posted it on social media, and after seeing it, Lee reached out to me to ask to use it across his socials - which I obviously agreed to. Fast forward to February, and the Devitt MotorCycle show in London's Excel Arena, and I bumped in to Lee as the Show was just starting. We had a quick chat and laugh, and I thanked him for the support on the image from Brands and wished him the best for 2023. I promised I'd try and get some more 'bangers' for him through the upcoming season.
Below is a selection from each round I was able to attend (couldn't make Knockhill sadly) and it's turned into a bit of a photographic scrapbook of Lee's 2023 season where he finished in 4th place in the Bennetts British Superbike Championship. It also was the season where Lee saw his time with Kawasaki and the FS3 team come to an end. 2024 will see Lee in new colours and a new team, and on a new manufacturer's bike. Initially, the news seemed really sad, but as rumours of the new team circulate, it could well be a case of "a change is as good as a rest" and will fire up a new challenge and another tilt at the title over the season.
Title deciding round and Lee went in to this with an outside shot at the title. It wasn't to be on this occasion, but the final standings saw Lee bag a 4th place in the championship overall. 
When, looking back at the start of the season, those issues with new parts, who knows what the final result could have been. Overall, though, a mega season. Really solid results, and Lee yet again showed what a top rider he is.
Like the way Lee is just appearing from behind the grass on the inside of the turn here. 
A 5th place in a fast and furious race 1, was followed by a 4th in Race 2 and an 8th in a very wet race 3. Weather conditions weren't the best all weekend with a mostly wet track causing issues over tyre choice for each session. 
However, yet again, some real solid and consistent performances from Lee.
Really like this one - full lean angle!
A good weekend results-wise from Lee at Oulton Park, and built on the results from Cadwell. Mixed fortunes off-track with the passing of his grandad, and then on the Saturday for Race 1 it was Lee's birthday!
Celebrating his birthday with a podium, Lee was able to repeat the feat for Sunday as well.
A late surge for the championship is underway, although with only two rounds left, even with the points increases, it is probably likely that it's just too late for the title. 
Ending the season on a high is always a good thing though to take you in to those long winter months!
Going through Hall Bends, this rear view of Lee is one of my personal favourites. Looks like he's heading off to new pastures. Which, at the time I took it, I didn't realise was the case and that his time with FS3/Cheshire Mouldings Kawasaki was about to come to an end
Hoping that 2024 see Lee on competitive machinery, as not only is he one of the best blokes in the paddock, but he's one of the best riders too in my personal view.
Best wishes LeeBob!
Tipping into T1 at Cadwell Park, which is a corner which looks to be more technical than it looks. Too late on the brakes, and you're going across the grass, too early and you're going to knacker the Charlie's complex.
Lee hitting his markers perfectly here though.
The Lee Jackson we all love starting to shine again at Thruxton with leading a race for the first time this season, and challenging for the podiums once again.
It's not easy getting a bike improving season on season, with new parts fixing one thing, but then scuppering something else which had been perfectly fine!
LeeBob has done a mega job this season all the way through, plus, I've seen him taking his young team mate under his wing at pretty much every round to show him the lines on the much more powerful superbike.
Bit of an issue with rear grip!
LeeBob giving it the full berries around Druids in Race 3, which showed improvements, but towards the end of the race especially, that rear end was coming round!
For me at least, Snetterton was a a very rare (as in, it was my first and only ever time to date!) of getting access to the grid before a British Superbike race. This pass was very kindly given to me by the Chasin' the Racin' podcast, whom I can never thank enough. Just a mega, mega experience.
Taking the opportunity to catch up with LeeBob, and obviously giving him total space and respect before Race 1. Totally dialled in here, when you walk past, you can feel the buzz and the electricity in the air. 
My challenge was to try and get a grid portrait and keep it looking like 'one of mine'. I'm happy with this, and really like the look Lee has here. 100% concentration on the job at hand.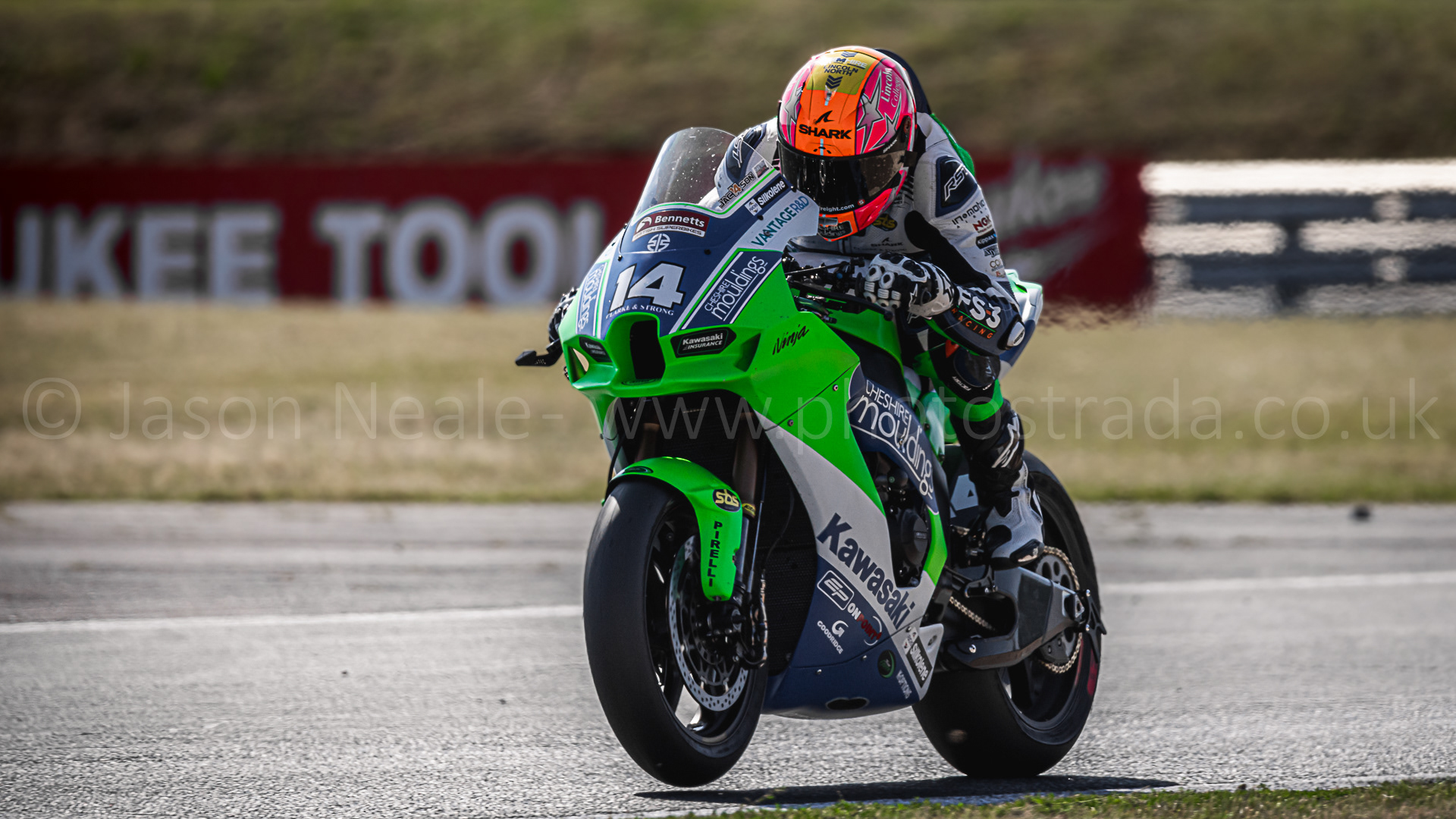 Heading for the Bomb Hole corner at Snetterton, fully on the pipe, and a decent splattering of flies on the screen too!
A 7th in race 1, and a 7th in race 2 and in race 3...... another 7th. So Lee was nothing if not consistent!
Results and performances are starting to look more like the Lee Jackson we all know and love as he gets used to the new swing-arm and new parts on his Kawasaki. All this has been frustrating for Lee, I'm sure, but he's now back around those top 5 positions, so with a little bit of luck going his way, the first podium of the year could be in sight.
Already this is looking like a season that could be defined by the weather. Although Silverstone was dry, round 2 at Oulton Park was hit with a number of wet sessions meaning restricted track time, and also unable to get any data for dry set-ups. Races were all on dry tracks. For the Cheshire Mouldings Kawasaki team, this all followed on from a wet pre-season in the UK, with minimal testing pre-season in Europe. Added to those new parts... Lee was able to show improvements in the bike are starting to show though, with some solid results. Donington Park at the next round will be another step forward, I'm sure, for both Lee and the team
Round 1 at Silverstone was a tough start to the year for Lee, and highlighted the lack of testing time due to the weather the team have experienced. Some new parts, and a rumoured new swingarm ready to go at Oulton Park for round 2, and hopefully we'll see Lee challenging for not only podiums, but wins as well. Just like 2022.
Come one Lee-Bob!!