I'll be doing my best to follow Lissy's progress right here, so keep checking back, and also follow her social channels for the very latest on how she's getting on. Follow Lissy on Facebook at Lissy Whitmore Racing #34, on Instagram at @lissy_whitmore_34 and on Twitter @LissyRacing34. You can also keep up to speed with what she's up to and how the season is going on her YouTube channel.
While you're here, why not get involved with MotorCycle Racing? It could be more affordable than you think. Although these bike look gorgeous, it is an expensive sport. Riders, even at the very top, typically have to pay for their ride for the season - and this comes from every penny they can muster from personal sponsorships. So if you've got a company that wants a great sales person (this is Lissy all over by the way!), or if you've just got £34 you can spare, then get involved with supporting Lissy. There is also Club #34 where as a thank you for the support you could also get a whole range of goodies, plus get to meet this awesome young rider at a race! So check out her socials, and her website for full details!
Support a future champion!
The end of the season, and as I write this, November approaches - which is also the month where my good friend Lissy Whitmore has her birthday!
So, I'm thinking what could be a better way to get through the long dark winter nights, than taking a look at an awesome action shot of Lissy in action from Donington Park back in May? 
Buy this shot as either a totally sick A3 poster, printed on full archival quality photo paper (£25.99 inc P&P) or an absolutely gorgeous looking 10x8in print which comes framed in a 12x10in black frame mounted on white card for £30 (inc. P&P)

. Looks stunning.
PLUS, it doesn't end there!! I don't make a single penny out of any of these sales, as

100% of any profit gets ploughed back into Lissy's racing fund

to keep her "

chasin the dream

" and inspiring young women everywhere. And, remember, November is her birthday, so.... you know....it'd be like buying her a little gift to celebrate. What's not to like? Order today by clicking on one of the buttons below. You could always buy two - treat a mate!!
The final meeting of the season had Lissy needing to pass a "fit to ride" medical, as a result of her injuries sustained at Donington Park two weeks before. Diagnosis on the ankle was a severely sprained ankle, and she passed the medical. 
Unfortunately, fit to ride doesn't always mean fit to race, and the effort and physical demands needed to race bikes is incredible. Heading out on the first Free Practice 1 session, Lissy quickly realised that the pain and discomfort on the bike was going to make it a tough ask to ride anywhere near her full abilities.
She took the sensible, mature and professional decision to pull out of the rest of the meeting for the safety of herself and other riders. A tough call to make, especially for the last round.
Everything is crossed that Lissy and her family can find the funding to continue Chasin the Dream in 2023. If you have enjoyed following her season as much as I have, please do make a donation to help fund her and keep her racing and inspiring other young women. Check out her social channels, and send her a message if you can help out in any way, big or small. You can also make a donation and sponser her at
https://lissywhitmoreracing.co.uk/sponsor-lissy/
2022 - R7: Donington Park GP
After racing on the Donington Park GP layout earlier in the season supporting the World Superbike round, this was one of the rare cases of Lissy having any reference point to start with. However, as there were those electronics improvements at Oulton Park, it did still mean the bike feeling slightly different. Day 1 met the riders with some very sketchy conditions with intermittent rain (which eventually evolved into a downpour!) meaning a wet track and racing ended for the day
The Junior SuperSport riders had mixed conditions on Day 2, but there were plenty of wet patches still from the downpour of Day 1. Sadly, Lissy had a highside coming on to the power on the exit to Redgate which resulted in her being quite battered and bruised. Initial diagnosis was a fracture to her ankle, which meant having to sit out the resst of the weekend in a lot of pain.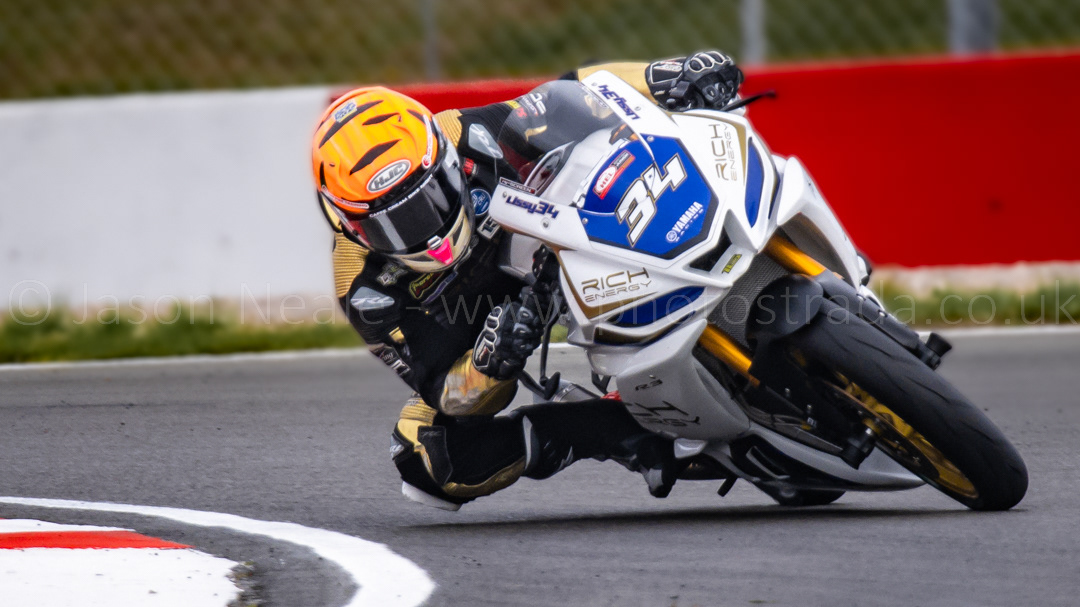 Second visit of the season for the BSB paddock, but the first and only visit for the Junior SuperSport class. Another new track on the OMG Racing Yamaha R3 for Lissy, and as with the rest of the season, times at the end of the weekend were significantly quicker than the first session. Keep in mind this is with no testing at all due to financial constraints.
Working through settings identified an improvement to be made to the electronics, which on a race bike, electronics are the bike's "brain". It's also an incredibly dark art in understanding this area of set-up, so incredible work by Lissy and her team to find the settings, and for Lissy to put those improvements into practice on the track. 
A really cool black and gold style edit here, which I think just compliments the black and gold colours of the Rich Energy OMG Racing official leathers, worn here by Lissy Whitmore.
Another meeting where there was lots learnt, and in a first full British Superbike season, that's all you can ask for. Got caught up in an on-track incident in Race 1, where Lissy had to take avoiding action meaning losing the tow from the main pack. Race 2 was a solid performance, and Lissy was so close to beating rival, Katie Hand. 
Onwards to Oulton Park, where Lissy will be looking to add to her learning and development and to end her season on a high. A top 20 before the end of the year would be amazing.
Final chicane at Thruxton, and a great shot of Lissy here leading Harry Cook on to the Start/Finish straight.
I think this was a brand new track for Lissy, and it's the fastest on the calendar. However, as has been the case all through the season, Lissy made progress in every session. Race 1 brought one of her best results to date, and was part of a really good race long battle.
Some riders have the benefit of being able to use trackdays between races to hone their skills, and learn the bike. However, Lissy has to limit herself to just the race weekend due to a need for more sponsors. I think, sometimes, unless you are involved with or follow the sport really closely, it can be hard to understand just how important sponsors are at every single level of racing. Just because it's a nice looking bike, doesn't mean the rider gets paid, or doesn't have to actually pay for the seat. So, anyone who can support our sport, and our next champions, you could do worse than supporting Lissy Whitmore - go check out her website for details on how to get involved at
lissywhitmoreracing.co.uk
2022 - Round 3: Donington Park (WSBK Support)
It's easy to forget that this is the very first season in British Junior SuperSport for Lissy, but the WSBK round gave a big step up in bike set-up. This was clear to see throughout the weekend, with the lap times falling in each session by significant amounts.
Hopefully, this nest step forward will really hold Lissy in good stead for the rest of the season and has provided a really good base setting from which to build from at each round.
This shot at Schwantz Curve is a perfect print to get signed with a message...
2022 - Round 3: Donington Park (WSBK Support)
Proper lent over and knee down from Lissy, and putting on a great performance in front of the World Superbike paddock.
This round was on the full GP layout at Donington Park, as opposed to the shorter national layout used in Round 2. The Junior SuperSport chamionship returns to the Donington Park GP track later in the year for the penultimate round, so this will have been an excellent 'test'.
2022 - Round 2: Donington Park National
I think this shot is amazing! A real action image with Lissy leading title contender, Harry Cook into McLeans at Donington Park. Both rider with knee down, and intense concentration and dedication to the task in hand.
Really good to see two young riders at the start of what could be long and successful careers. Both showing really good race-craft, both looking so stylish and overall, I think makes an awesome photograph. 
I always like these shots where you get either reflections in the visor from the track, as is the case here, or when you can see the eyes of the rider when they have a clear visor. 
Plenty of room on the "Tigger" crash helmet for a sponsor or two, and you can get an idea here of the high profile it would bring any business! So don't get left behind,
get involved!
​​​​​​​
2022 - Round 2: Donington Park
Race 1 action here, and a great elbow to elbow image of Lissy battling with Freddy Oakley, with neither rider willing to give an inch. Although both want to beat each other, and fight for the same bit of tarmac, there is nothing but respect between the two, as there is with all motorcycle racers.
You can do nothing but admire and take your hat off to racing this close to a rival, and at high speed.
2022 - Round 2: Donington Park
This was taken in FP1 (also known as Free Practice 1). This is the session where riders really just get used to the bike and the track, and try to work out if they have a good 'base setting' from which they can start to 'dial the bike in' by making small and gradual adjustments to parts of the bike. 
Photographically, I used quite a slow shutter speed here, and had to follow the bike in order to keep Lissy and the bike in focus, but have the background blur to try and capture the speed she was traveling at. The tone of the colours here really add a stylish and cinematic feel to the image.
2022 - Round 2: Donington Park
A really nice close up here of Lissy in action in race action in Race 1 of Round 2 of the Hel Performance British Supersport Championship at Donington Park. The "Tigger" crash helmet really stands out here, as it does when you're trackside, so you can't miss Lissy! Personally, I think the nickname "Tigger" could stick...?
2022 - Round 1: Silverstone
Leading the way through the last corner (Luffield) at Silverstone in Free Practice 1 (FP1) of the Hel Performance British Supersport Championship, with Lissy Whitmore on the Rich Energy OMG Racing Yamaha R3 leading Abbz Thomas in the SymCirrus Motorsport Kawasaki 400.
Not only the start of a new season and the very first competitive session, but also the start of a learning curve for many of the riders, who are starting their first full season, and potentially taking their first steps on a career as a motorcycle racer.
This is where the future World Champions are born!
2022 - Round 1: Silverstone
Honestly, this is one of my favourite pictures I think I've ever taken at a motorcycle race!
I just love that Lissy has spotted me, and you can still see that massive grin inside her race helmet. If ever a picture shows what bike racing means to those who take part, then this is it. The pure excitement and joy!
This was taken just after Lissy had had her bike checked over in scrutineering (it passed!) ready for her first ever outing as an official Rich Energy OMG Racing Yamaha R3 rider.
A full championship year means that there will be a lot to learn along the way, but on the first outing she looks a really smooth and focused rider - so with everything she's going to learn, and one of (if not the) best teams in the paddock, I've no doubt she'll improve with each round. 
​​​​​​​
2022 - Round 1: Silverstone
Action shot here of Lissy, getting her knee down and hitting the apex!
Silverstone is a really tough track to get any photos, let alone good shots, due to the amount of fencing and the distance you are from the track (F1 requirements), so this was a particularly challenging image to capture.
I have cropped this to a 16:9 ratio, which is a widescreen format. I think this gives the image a gritty and slightly cinematic look and feel to it. Gritty and determined being two words you could use to describe Lissy too I think!!
2022 - Round 1: Silverstone
Ooops! Small off when the front tucked - but crashing is part of the job.
This is really a sign of a rider trying to find the limit on a new bike and a new track. Most important thing is that the Lissy was OK. The second most important thing, is that there was only very minor damage to the bike.
Not sure how many riders would agree, but there is an old saying that "if you're not crashing, then you're not going fast enough". Not quite sure how you're mean to get podiums if you're crashing, so whoever said that didn't think it through!